When I hit my early twenties say around 21 I realized that my performance in terms of my results in Badminton was plummeting. I did give myself time, 2 years from then but still couldn't see any difference and after a point the sport just became a burden to play especially the tournaments. This was the turning point I decided that I needed to hang by boots and move on with something else and start my second career. Moving into this phase or my transition for sure wasn't easy it took a lot of convincing to do mainly my parents, my mother in particular as in the journey of an athlete its not only his or hers but a lot of sacrifices have to be made by your family to get you to where you are and also that I decided to stop playing at an early age was something she couldn't digest every easily.
With no plan whatsoever in mind I made the decision of quitting the sport and I thought that it would be easy to be able to do something else. The epiphany hit me only when I started looking for opportunities and I realized that I knew almost nothing. So that's when a new journey began from scratch usually what happens after you play at a certain level you become a recognizable face within your fraternity and once you come out of that place, away from the limelight it can be a daunting experience where nobody cares what you have achieved on the court unless you become the GOAT in the game.
From the beginning I was clear that I had to do something around sports as I already had the experience as an athlete so I felt it will be lot easier compared to changing the industry entirely. So, the journey of my second career started with volunteering with an NGO, I would work for few hours a week. I did that for almost 6 months and then moved to secure an internship with a sports company mainly into providing physical education for students in schools. I had a call center kind of role there where I had to call the principles of various schools and try and fix up an appointment to eventually sell the service. Trust me when I say this it was the first time I regretted to stop playing professional sport. This internship went on for almost 2 months and I realized to see some changes in me. From there on whenever I would have a telephonic conversation I was more confident and wouldn't hesitate to call anyone and speak to them. These are somethings you only realize once you put in the work just like how it works in sport.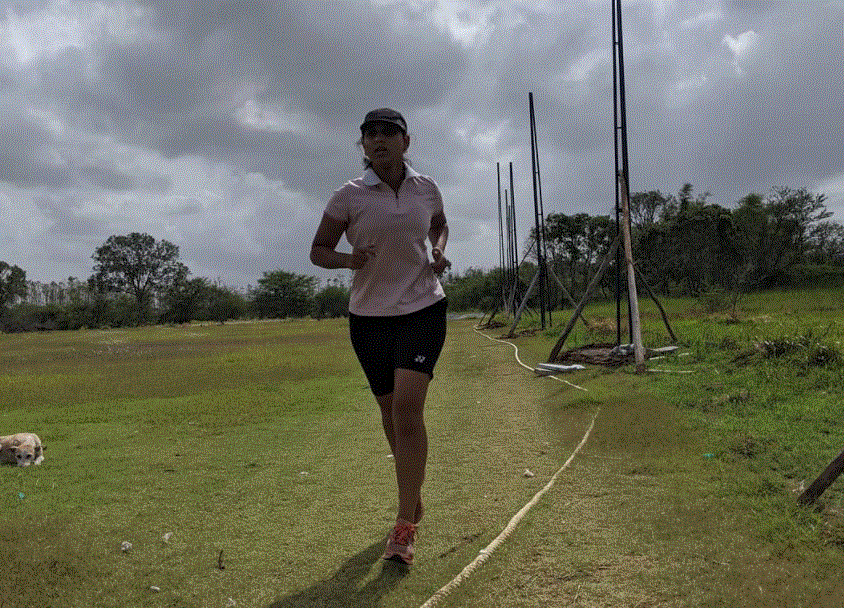 Then covid happened the internship was put on hold so I decided to look for other opportunities and got a job with a sports tech company and worked as sports analyst there. I was there for 8 months and it was hell, just imagine an athlete who has not attended school or college properly to sit for almost 12 hours a day in a stretch in front of your laptop and tag sports games. This is role actually helped me in realizing the things I won't be able to do and was enabling me in zeroing down my options hoping to finally find the right path.
Now that I tried 2 – 3 different kinds of roles I felt that I needed to be educated on certain aspects keeping the fact that my undergrad was just a mere degree in the literal sense. So, I decided to pursue my PG in sports management to get a more comprehensive understanding of "behind the scenes" in sport. The course being an executive one gave me lot of free time during the weekdays which made me to get into badminton coaching a bit. At the same time, I co-founded a blind football club along with a fellow Indian blind footballer called Tamoghna Blind Football Association where we train people with visual impairments for football, groom them to be job ready and organize various competitions at the community level to spread awareness and our mission. As a player one thing I was sure was that I would never get into coaching but now that I'm doing it, its actually fun and the fact that your able to groom players through learnings in your own way is very satisfying at the same time. Coaching is something one falls back as player the first thing most of us would do once you stop playing professional sport. For me as a person I have always been keen on getting into the management side of things understanding how the planning and execution of the large-scale events actually take place. In the search of an answer I constantly keep looking out for opportunities which will help me grow as an individual and where I will be able to make a difference.
Till now it was about my journey but what I'm going to say now might help you in making yours a lot easier. When you take the decision to retire you need to be entirely sure about it as you will be sending maximum of your time doing others things and for that you need to have clarity with yourself. The next is to focus on the transition and to make the entire process easy one should always start planning their transition 2-3 years before itself from the time they decide to stop playing. Come up with a plan and start working on the things you are not aware off and upgrade yourself by honing and learning skills. Try out different things till you are able to identify that one thing you're interested and work on it. Start networking with people who have gone through what you are doing to make the process easier. Be prepared to unlearn and relearn, and consider yourself a beginner/ novice so that you will be able to learn with a good attitude. Finally, the most important thing is that you need to come out of your athlete bubble and be the first to approach and be approachable. These were some the tips and tricks I have used and learnt over the last few years. However, I would like to say that I am still in the phase of transition not clearly found my path as to what I really want to do but I must say that I am definitely closer that what I was 2 years back.
About the author
I am Reshma Karthik, a former International Badminton Player and a sports management professional. I have recently completed my PG in sports management from IIM Rohtak and will be joining OGQ as a Para-athlete Manager from April and also co-founded a Blind Football club called Tamoghna. Coming to badminton I have been a former India No.1 in WS, reached the highest World Ranking of 82 and the silver medalist in the Senior National Championships 2017. My plans in the future is to contribute to the Indian sports Industry and be able to bring an impact and elevate the standards of the budding athletes ecosystem in the country.
About Simply Sport
Simply Sport is a sports policy research & development organization based out of India. Simply Sport's vision is to promote sports as an effective tool for the development of the nation. It focuses on policy research, grassroots development and the use of technology in sports. To subscribe to Simply Sports Newsletters, Research & Articles, please write to subscribe@simplysport.in. You can follow Simply Sport on the Twitter handle @_SimplySport for more sports-related content.